* Got up at 7:30.
* Cleaned the cat litter
* Dropped into my old work and had a chat with my boss who told me about a temporary job opportunity she knows of.
* Went to
thingwithtrees
house (promptly awakening her) to return her shoes.
* Arranged and had the massage I promised the maternal I would get, to see if it helps with the fibro. I don't know if it did, but I sure felt floppy afterwards.
* Sent the parcel-a-week that was RTS to the CORRECT address (I hope).
* Had lunch with the maternal.
* Went shopping for a few puppet-making essentials.
* Went shopping for and found an excellent parcel, which I dutifully posted.
* Made a dog.
* Picked the maternal up from work.
* Made a turtle.
I didn't nap, though now I am totally buggered. I also didn't do any reading, but I may just make that up very shortly.
For now... PICSPAM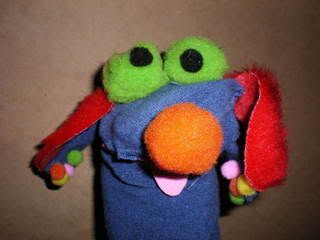 They called me mad. MAD!!!
You can't see the full extent of the insanity this dog projects. He's nuts, I'm telling you. I'm afraid of him.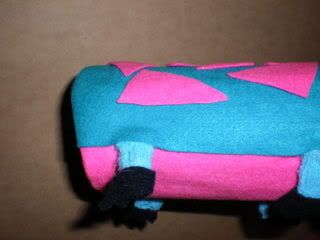 Who's in there?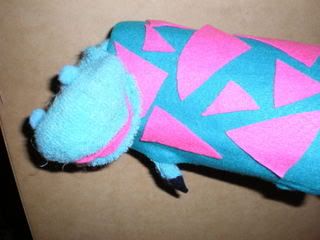 Hello!
My next attempt will be a bunny, then, at Miska's request, a pig or cow.
And there are not good puppeteer communities on LJ. What's that about?
Today I: